Newsletters
October is Breast Cancer Awareness Month. How will you show your support this cause that touches all of us--participating in a walk? Donations? Volunteering to keep someone company while they get their treatment? Any and all of the above will be appreciated.
October 31 we celebrate Halloween! I LOVE opening the door and seeing the smiling faces and cute/scary costumes! And if you need a fun diffuser blend for the holiday, try the one below! Also, check my website for other great recipes. Email me for more information about natural solutions and be sure and "like" my
Facebook business page

to ensure that you'll get updates on classes, events and giveaways!
Don't miss the section below with the new products launched at the September Global Convention!
doTERRA OCTOBER PROMOTIONS!
A NEW month means NEW promotions to take advantage of!
-During the month of October, save 10% on Terrazyme. Plus, you will get a 15 mL Lemon for FREE when you place an LRP order of 125 PV before the 15th.
-For the entire month of October, anyone can place any 200 PV order to receive one 5 mL Kumquat, one 5 mL Red Mandarin, one 5 mL Clementine, and a Car Diffuser for FREE!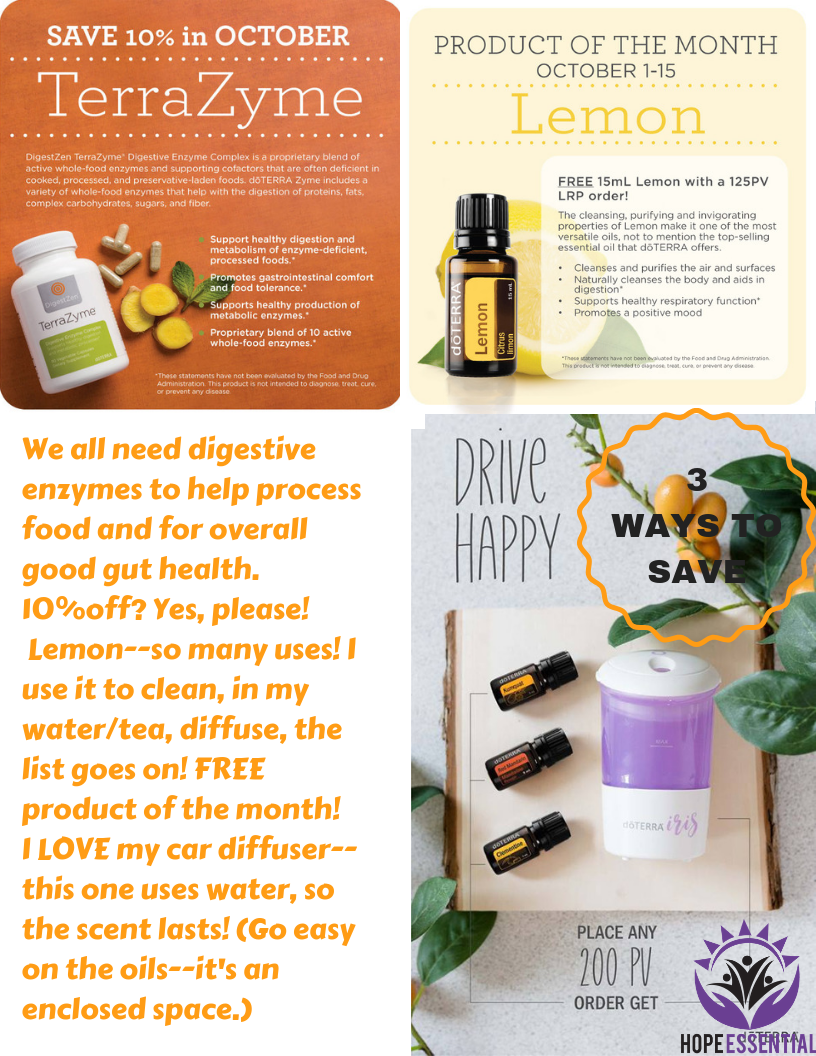 If you're curious about essential oils, but have yet to take the leap into natural solutions, now is the perfect time to invest in your wellness!
AND you get me as your very own personal wellness consultant who will be with you throughout your journey.
Empowering people about their health is one of my favorite things to do!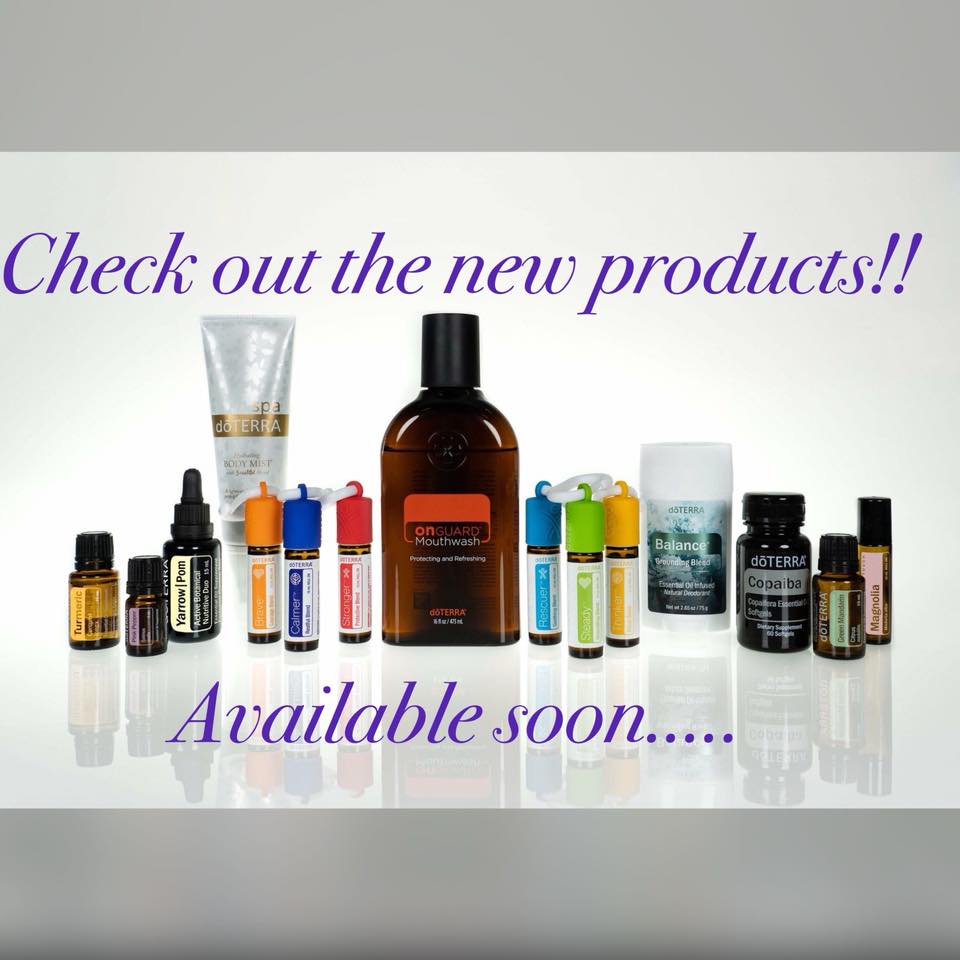 Which new product are you most excited about?
Turmeric*Pink Pepper*Yarrow/Pom*Hydrating Body Mist*KIDS LINE*OnGuard Mouthwash*Balance Deodorant*Copaiba Softgels*Green Manderin*Magnolia Touch
For more details on each product, simply click the button below. Many will be available October 1st!
Hugh Jackman uses doTERRA Essential Oils!

Well, his wife does, so the entire family is on board. Aside from being handsome and talented, Hugh also has a desire to make the world a better place. He is co-founder of LAUGHING MAN COFFEE. Be sure and check it out! I love that doTERRA is intentional about who they choose to speak at convention--a big heart is a must!

OPERATION UNDERGROUND RAILROAD

Tim Ballard, Founder and CEO of Operation Underground Railroad, joined us at doTERRAdream2018! The doTERRA Healing Hands Foundation is a proud partner with Operation Underground Railroad (OUR Rescue). OUR Rescue exists to rescue children from sex trafficking. To learn more about Operation Underground Railroad, visit their website by clicking the button below.

PRIME MERIDIAN HEALTH CLINICS

doTERRA is about to expand exponentially! We're actually getting one in Nashville! I admire that doTERRA isn't satisfied to wait for anyone else to change the healthcare system, which is more of a disease treatment system. So exciting!
UPCOMING EVENTS FOR HOPE ESSENTIAL
DROP-IN WEDNESDAYS!
Every Wednesday, 2-4pm
Open Doors Coffee House
101 E. 8th Ave., JC

Do you have questions about essential oils but have a difficult time making it to a class? This is a great opportunity to just drop in and ask your questions! Awesome coffee house with $1.00 coffee for us seniors--yay! A wonderful menu and the friendliest staff. Can't wait to share a cup and some knowledge about how essential oils can support you toward wellness!
HORMONES: A BALANCING ACT--How Essential Oils Can Help
Tues., October 9, 6pm
The Salt Mind Experience
207 N. Boone St., #1300
Johnson City

Hormones are like a wave. When the wavelike rhythm of your hormone cycle is disrupted, you experience symptoms. Discover how essential oils can help support your body in regaining balance. Optional Make & Take Roller Bottle Blend-$5
Drawings for prizes--bring friends!

doTERRA CONVENTION RECAP


Thurs., October 11, 6:30pm
Sleep Inn & Suites - JC
2020 Franklin Terrace Ct, Johnson City

Join us for our Post Convention Recap!
We will be sharing as much as we can from doTERRA Dream Convention 2018!!
New Products and lots more!!

4th ANNUAL WALK FOR WELLNESS EXPO


Sat., October 13, 11am-2pm
W. Ravine Rd., Kingsport

Be present for the history-making 2 Million Mile City announcement at the region's largest health and wellness expo. This free event features complimentary health screenings and services, 50-plus vendors all with giveaways, a farmer's market alley with fresh produce and healthy treats and more.
BE SURE AND STOP BY AND SEE ME AT THE HOPE ESSENTIAL BOOTH!
RSVP for FREE with the Eventbrite link below. Preregistration includes a chance to win 1 of 2 Apple Watch Series 3 and more!
Must be present to win.
WHY ESSENTIAL OILS? WHY doTERRA?


Tues., October 16, 10am
The Salt Mind Experience
207 N. Boone St., #1300
Johnson City

PLEASE NOTE THIS IS A MORNING CLASS!!!!

Are you curious about essential oils and why so many people are talking about them/using them? Are you confused about why some brands cost so little and some are pricey? Come learn why natural solutions are the solution and why it DOES matter which brand you choose to use. Bring friends! Drawings for prizes! FREE EVENT! If you haven't already checked out the fabulous Salt Mind Experience, here's your chance!

PAMPER ME PARTY!


Sun., October 21, 2pm
The Salt Mind Experience
207 N. Boone St., #1300
Johnson City

You deserve to be pampered! Especially right before we head into the holiday season. Come prepared to relax and be spoiled. You'll get to experience doTERRA's Detoxifying Mud Mask with Myrrh, Juniper Berry and Grapefruit Essential Oils, a mini-massage, and halotherapy. Just breathe...and let us take care of YOU! Cost: $35 without a membership, $15 with a membership. Bring friends! Limited space. RSVP to ensure you don't miss out!

ESSENTIAL OILS MAKE & TAKE PARTY!


Mon., October 22 6:30pm
Sleep Inn & Suites - JC
2020 Franklin Terrace Ct, Johnson City

Take home one or more of our fun, easy roller bottle blends: Concentration - Digestive disorders - ENERGY - Anxiousness - Head Tension - Hormone Imbalance - Immune support - Seasonal threats - Skin issues - Sleep issues - Tired, Achy Muscles - PLUS MANY MORE!!!
The party is FREE. Bring friends! We will be making a variety of different rollers only $5 each. Make as many as you like! SEE YOU THERE!
NETAR TRADE SHOW
Tues., October 23, 1pm-4pm
Holiday Inn Johnson City
101 W. Springbrook Dr.

For all of my realtor friends, be sure and stop by my table and enter the raffle for a free bottle of On Guard Immunity Blend Essential Oil!

GREEN CLEANING: Make & Take Air Freshener Spray


Fri., October 26 9am
The Jonesborough Sr. Center (for members only)

There is no need to pull out your rubber gloves and surgical masks when you clean your home. Come learn how to make simple and inexpensive non-toxic cleaners from ingredients already lying around your house. $5 to cover cost of supplies. Prepay and RSVP at the senior center. *FOR MEMBERS ONLY

MAKEOVER MADNESS
Sat., Nov. 3. 9am-1pm
Holiday Inn Johnson City
101 W. Springbrook Dr., JC

This event is to bring awareness to the public about THE WALK TO END ALZHEIMERS. This is a fundraiser and for ladies who are looking to make things easier in their lives by changing a hairstyle, makeup, someone to help with cleaning your home, your diet, new clothes,permanent makeup, or jewlery.... the list is endless. There will be mini seminars from each vendor and lots of items to bid on in the SILENT AUCTION. We ask for a small donation to the cause at the door. We look forward to seeing you there !
WHAT IS REIKI?

I'm told that we ALL have the ability to heal ourselves, but many of us don't know how to channel that energy. Reiki is a spiritual healing art with its roots in Japanese origin. Curious to know more? Click below for the complete blog.
Medical/Health Disclaimer—By law, I am required to say: This information is not intended to cure, diagnose, prevent or treat medical conditions, nor is it a substitute for the product user's guide. Please consult with a physician before beginning this or any other new health care program. These statements have not been evaluated by the FDA and are for informational purposes only.
© 2018 Hope Essential, LLC