March 17--St. Patrick's Day:
Did you know St. Patrick wasn't from Ireland? He was born in Roman Britain, was kidnapped into slavery and brought to Ireland. He escaped to a monastery and converted to Christianity. He used the shamrock to explain the Holy Trinity; he's been credited for many miracles. Such suffering and such reward. But we don't have to suffer or perform miracles to make a difference in this world. Throw kindness around like confetti! Follow the Golden Rule. Smile often. Be an angel on earth. Even if people don't throw parades in your honor, you will be remembered fondly for your kindnessess. Who are some of your angels on earth?
And if you're looking for something delicious to make that's green in honor of St. Patrick's Day, check out the recipe below!
Also, like my
Hope Essential, LLC
Facebook business page
for information on how essential oils can help with other health concerns and get updates on classes, events and giveaways!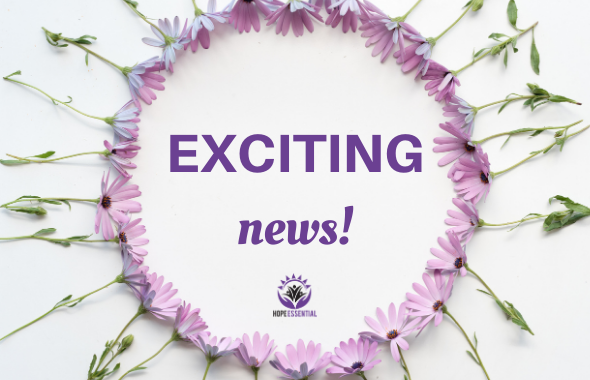 YOU CAN NOW SUBSCRIBE TO
MY "OPEN MIND, OPEN HEART" BLOG!
MARCH GIVEAWAY: Be one of the first 3 people to sign up for my blog--so you'll never miss when a new one is publshed--and you will receive a free bottle of one of the most popular essential oils!
BLOOD SUGAR LEVELS AND ESSENTIAL OILS

ARE YOU SLEEP DEPRIVED? Chronic sleep deprivation is one of the most overlooked details when considering overall health. It's even being linked to Alzheimer's. Essential oils can help you in your search for better and more sleep.

ALWAYS consult with your doctor before using the oils--the positive effects may require a change in the dose of one or more medications.The good news is that essential oils are natural, so your body knows what to do with them! You can learn more about these oils

here

.
FemCity Johnson City Collective Event
Tues., March 16

12:00-1:30




Location provided upon registration.

ARE YOU A FEMALE BUSINESS OWNER IN THE TRI-CITIES?

FemCity is a place for women in business to come together in support of each other. And it's happening right here, in our own community. I am honored to lead this mastermind group with a global reach and invite you to be a part of it! Your first visit is

FREE

with a

30

day free membership!
Facebook Video Series: Holistic Lifestyle Tips--Getting Real About the Woo-Woo!
Every Wednesday, 9:00pm

THERE IS HOPE FOR A QUALITY OF LIFE AS YOU AGE

, but the odds will be more in your favor, in my humble opinion, if you open your mind to a different, whole body approach instead of treating symptoms. I have embraced a holistic approach to wellness for over 25 years and would love to share what I've learned on my journey. I am 63, genetically pre-disposed to diabetes, and yet I am not on ANY daily prescriptions or OTC for this disease. Are you ready for positve change?!
BALANCING BLOOD SUGAR, NATURALLY
Thurs., Mar. 4, 6:30pm-7:30pm EST


Zoom

workshop

It's not too late to register! (I can't get free samples to you before the class, but will send them after you attend.) Unbalanced blood sugar levels can lead to a multitude of health issues. Medications often come with the price of serious side effects. Discover how essential oils can help! You don't have to do this alone.

ESSENTIAL OILS MADE EASY
Thurs., Mar.. 11, 7:00pm-8:00pm EST


Zoom

Workshop

I am so excited to announce we have a monthly online class for those who have sampled the oils, had a great experience and want to know more, or you know very little and are curious! Either way, if you are not already a doTERRA Wholesale Customer and would like to take advantage of this class, just email me for details. IF YOU RSVP BY TUES., 1/4, I'LL MAIL SAMPLES TO YOU FOR THIS INTERACTIVE CLASS!!
WELLNESS EDUCATION SERIES
Tuesdays, 7pm-8pm, EST
Zoom Online Class

(A course for Hope Essential wholesale customers)

An 8-week continuing education series taught by seasoned oil users covering the following topics:
I Have Oils, Now What?
Nutrition and Supplements
Toxin Free Living
Oils for Every Age
Essential Skin Care
Stress, Sleep and Emotions
Women's Health and Hormones
Oils for Pain Management


doTERRA BUSINESS MADE EASY
Thurs., March 18, 7pm-8pm
Zoom Workshop

ARE YOU CURIOUS ABOUT THE BUSINESS SIDE OF doTERRA?

If you are considering adding another stream of income, or maybe you're looking for purpose, or both. If you're open to a natural solutions lifestyle and you LOVE helping people, consider attending this online class to see if doTERRA might be a good fit for you. You do NOT have to be an existing wholesale customer to attend. NO pressure to make a decision about the products or business, just education so that you can make an informed decision. My team has created an amazing community of "oilers" and if you think this might be your tribe, check us out!
FREE PRODUCT OF THE MONTH: CEDARWOOD

Cedarwood encourages tranquility and can help you relax at the end of the day. (really helps with my "racing brain" issue at night!) Popularly used in the perfume and skincare products, Cedarwood soothes the skin and calms the mind. It's also a natural bug repellent.

When a child wakes up scared in the night, apply to the bottom of feet to return to a peaceful feeling.

Simply place a 125pv Loyalty Reward Order by the 15th to receive this FREE oil!

15% OFF: LEMONGRASS

Take advantage of this month's 15% off item, 15 ml Lemongrass!

Lemongrass oil is purifying and toning to the skin, and is frequently used in skin care products. Lemongrass is an ideal oil to use in massage therapy. Lemongrass essential oil has a pungent, herbaceous aroma that can heighten awareness and promote a positive outlook.

For the entire month, receive 15% off your purchase of Lemongrass Essential Oil!

NEW DIFFUSER KITS!

We're so excited to share our two new diffuser kits with you!
Meet the Laluz [™️] Diffuser. This sculptural diffuser creates ultrasonic vibrations, turning water and essential oils into aroma-infused mist. Diffuse Wild Orange and Peppermint to naturally scent your home.
Enjoy the benefits of a humidifier with Dawn [™️] Aroma Humidifier with doTERRA Breathe® and doTERRA On Guard®. This bundle has everything you need to create a comfortable environment in your home.

SHOP AND/OR JOIN OUR TRIBE

Ready to get started on YOUR wellness journey with your own essential oils? A wholesale account with doTERRA gives you 25% off everything, additional education, team-exclusive giveaways and promotions, a welcome packet of goodies, and access to our Customer Support Facebook group: a community of like-minded people who support and learn from one another! To become a part of our tribe, click on the button below and choose "Become a Member" at the top of the page and follow the prompts. I'll get notified when you do, and then I'll hook you up with some welcome goodies and resources!
Medical/Health Disclaimer—By law, I am required to say: This information is not intended to cure, diagnose, prevent or treat medical conditions, nor is it a substitute for the product user's guide. Please consult with a physician before beginning this or any other new health care program. These statements have not been evaluated by the FDA and are for informational purposes only.
© 2021 Hope Essential, LLC