IT'S CHRISTMAS TIME!
Do you believe in the magic of Christmas? I've always loved Christmas and the way it tends to bring out the best in people--toy/blanket/food drives. Angel trees that help families and seniors have a better holiday. What selfless, generous act have you witnessed during the Christmas holiday?
And if you need more energy, see the details below and enter my raffle!
And don't forget, I offer FREE wellness consultations! You can see my calendar
here
and choose a day/time that's convenient for you.
Also, like my
Hope Essential, LLC
Facebook business page
for information on how essential oils can help with other health concerns and get updates on classes, events and giveaways!
THE CHRISTMAS BOX

The Christmas Box, a holiday classic that is as beloved in our time as A Christmas Carol was in Dickens's.
BLOOD SUGAR LEVELS AND ESSENTIAL OILS

GOT SUGAR CR

AVINGS?

FENNEL ESSENTIAL OIL TO THE RESCUE! It's that time of year--sweets everywhere you turn ... Fennel is just one of several oils known to help with sugar cravings. I'm on a mission to remove white sugar from my diet and to eat clean. If you share that goal, too, check out my website for healthy, great-tasting recipes!

ALWAYS consult with your doctor before using the oils--the positive effects may require a change in the dose of one or more medications.The good news is that essential oils are natural, so your body knows what to do with them! You can learn more about these oils

here

.
FemCity Johnson City Collective Event
Tues., December 15

12:00-1:30




Johnson City location provided upon registration.

ARE YOU A FEMALE BUSINESS OWNER IN THE TRI-CITIES?

FemCity is a place for women in business to come together in support of each other. And it's happening right here, in our own community. I am honored to lead this mastermind group with a global reach and invite you to be a part of it! Your first visit is

FREE

with a

30

day free membership!
Facebook Video Series: Holistic Lifestyle Tips--Getting Real About the Woo-Woo!
Every Wednesday, 9:00pm

THERE IS HOPE FOR A QUALITY OF LIFE AS YOU AGE

, but the odds will be more in your favor, in my humble opinion, if you open your mind to a different, whole body approach instead of treating symptoms. I have embraced a holistic approach to wellness for over 25 years and would love to share what I've learned on my journey. I am 62, genetically pre-disposed to diabetes, and yet I am not on ANY daily prescriptions or OTC for this disease. Are you ready for positve change?!
BALANCING BLOOD SUGAR, NATURALLY
Thurs., Dec. 3, 6:30pm-7:30pm EST


Zoom

workshop

Unbalanced blood sugar levels can lead to a multitude of health issues. Medications often come with the price of serious side effects. Discover how essential oils can help! You don't have to do this alone.

ESSENTIAL OILS MADE EASY
Thurs., Dec. 10, 7:00pm-8:00pm EST


Zoom

Workshop

I am so excited to announce we have a monthly online class for those who have sampled the oils, had a great experience and want to know more, or you know very little and are curious! Either way, if you are not already a doTERRA Wholesale Customer and would like to take advantage of this class, just email me for details. IF YOU RSVP BY TUES., 11/3, I'LL MAIL SAMPLES TO YOU FOR THIS INTERACTIVE CLASS!!
WELLNESS EDUCATION SERIES
Tuesdays, 7pm-8pm, EST


Zoom

Online Class

(A course for Hope Essential wholesale customers)

An 8-week continuing education series taught by seasoned oil users covering the following topics:

I Have Oils, Now What?

Nutrition and Supplements

Toxin Free Living

Oils for Every Age

Essential Skin Care

Stress, Sleep and Emotions

Women's Health and Hormones

Oils for Pain Management

ESSENTIAL OILS MADE EASY--Holiday DIY
Sat., December 12 4:15pm-5:15pm
Legendary Massage
117 Wexler St., Kingsport

We are so excited to host an IN PERSON essential oils workshop! (the meeting space is large enough to ensure social distancing.) If you've already had a great experience with essential oils and want to know more, or you know very little and are curious, come join us! You'll also have the option to make one or more hoiday gifts for $5 each! This is an interactive workshop, so come prepared to have FUN! Bring friends! *MUST RSVP BY THURSDAY, 12/10, 8pm* Space is limited; reserve your spot now!
doTERRA BUSINESS MADE EASY
Thurs., December 17, 7pm-8pm


Zoom Workshop

If you are considering adding another stream of income, or maybe you're looking for purpose, or both. If you're open to a natural solutions lifestyle and you LOVE helping people, consider attending this online class to see if doTERRA might be a good fit for you. You do NOT have to be an existing wholesale customer to attend. NO pressure to make a decision about the products or business, just education so that you can make an informed decision. My team has created an amazing community of "oilers" and if you think this might be your tribe, check us out!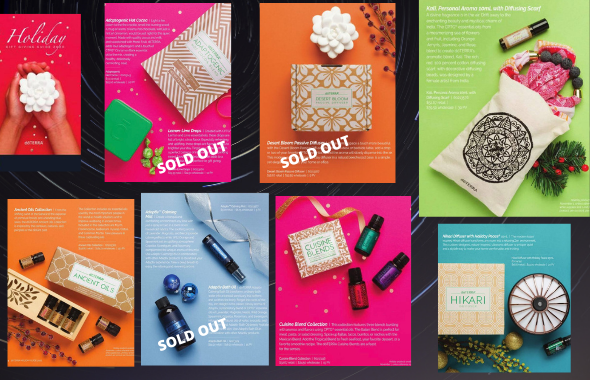 doTERRA Holiday Gifts Available in December
December 1 is the second round of available holiday items! Order asap--once sold out, that's it! And in the past, many products didn't last long. Be sure and check the website for availability.

December 1st
• Tinted Lip Gloss
• Cuisine Blend Collection (Mexican, Italian, and Tropical)
• Kintana, Personal Aroma
• Adaptiv™ Calming Mist
• dōTERRA Serenity® Linen Mist

SHOP AND/OR JOIN OUR TRIBE

Ready to get started on YOUR wellness journey with your own essential oils? A wholesale account with doTERRA gives you 25% off everything, additional education, team-exclusive giveaways and promotions, a welcome packet of goodies, and access to our Customer Support Facebook group: a community of like-minded people who support and learn from one another! To become a part of our tribe, click on the button below and choose "Become a Member" at the top of the page and follow the prompts. I'll get notified when you do, and then I'll hook you up with some welcome goodies and resources!
Medical/Health Disclaimer—By law, I am required to say: This information is not intended to cure, diagnose, prevent or treat medical conditions, nor is it a substitute for the product user's guide. Please consult with a physician before beginning this or any other new health care program. These statements have not been evaluated by the FDA and are for informational purposes only.
© 2020 Hope Essential, LLC